Career Talk with Dina Bseisu -Turning Challenges into Opportunities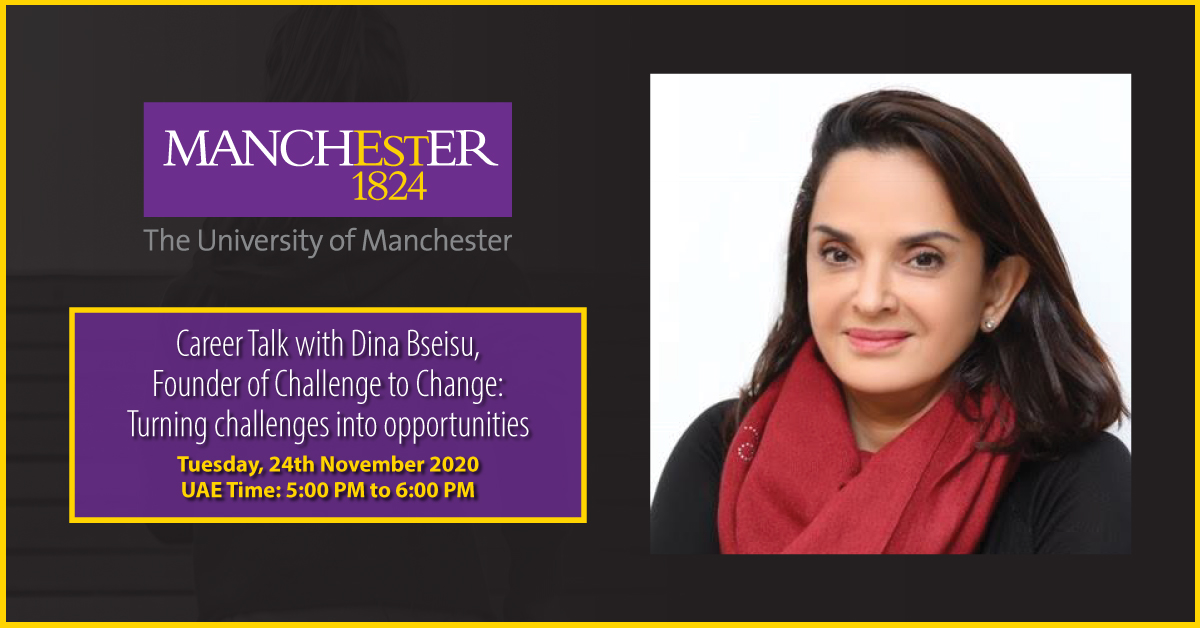 We are delighted to invite you to the University of Manchester Middle East Centre Career Talk with Dina Bseisu, Founder and President of Challenge to Change. In this webinar, you will hear from Dina on how to navigate challenges turning them into opportunities. DINA BSEISU Founder and President, Challenge to Change Dina Bseisu is a passionate advocate for the empowerment of Arab Women.
She built a career in Private Banking over 25 years, having worked as a senior executive with leading international banks in Geneva, Switzerland. In 2014, Dina launched Challenge to Change, a Swiss non-profit association focusing on Arab women empowerment. It is now recognized as the region's leading platform for women; offering life changing programs that equip them with confidence and the skills needed to achieve their full potential. Challenge to Change has empowered over 10,000 Arab Women since inception.
She is also a motivational public speaker and has spoken at various prominent forums on the topics of Inspiration, Women Empowerment and Mental Wellness. Among them were the Women Power Summit,the largest congregation of prominent MENA women held in Bahrain in 2019, The Executive Woman, held at the USEK University in Lebanon in 2018, and The Royal Charity Organization in Bahrain. She is also a member of the Toastmasters International in Bahrain and has secured 1st place in recent competitions at the club and area levels.
Dina earned a BA degree in Political Science and Economics from Duke University and later on, an MSC with honors in Foreign Services from Georgetown University. In her spare time, she writes poetry and paints. Dina loves alpine skiing, reading, music, and the outdoors. She is the mother of two adult children and spends her time between Bahrain and Geneva, and travels extensively.