DBWC Provides Access to Mentoring Opportunities For Evolvin' Women Programme Participants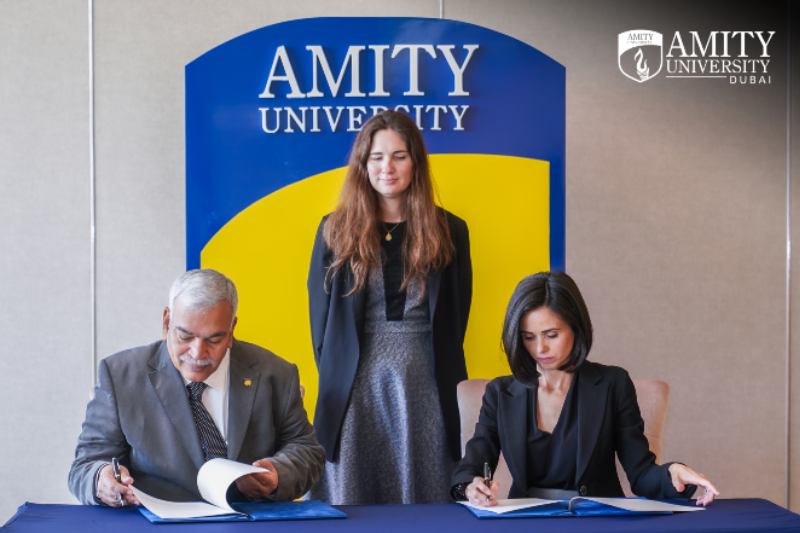 Furthering the education of women from developing countries to advance the next generation of managers in the Hospitality Industry.
Evolvin' Women and Amity University Dubai signed a partnership with the objective of enhancing the skills and knowledge of participants enrolled in the 27-month Evolvin' Women Programme that is designed to develop unemployed women who have had limited access to education and skill training, into the next generation of managers in the Hospitality Industry.
Women enrolled in the Programme prepare for interviews with organisations in the UAE and secure a job for 2 years. While in the UAE, they are provided with access to higher education, professional coaching and a network of industry experts in view to returning to a job in their home country at the end of the programme.
Through this new partnership with Amity University Dubai, Evolvin' Women participants will have access to a Tourism and Hospitality Professional Course and to their incubator centre for social entrepreneurship. Both courses will engage participants for 12 months.
Through an application process, Amity University Dubai will offer participants the opportunity to take classes and learn more about hotel management and operations while the incubator centre will help them develop an sustainable tourism concepts through design thinking and business model canvas aimed at transferring the knowledge gained in the UAE to their communities.
Further, during the course of the year, this program creates opportunities for mentoring and knowledge sharing provided by members of the Dubai Business Women Council.
Supportive partner
"Through this programme, we will be cooperating with two of the most prominent institutions in the field of training and academic education. We will be one of its key supportive partners. The programme will not only meet their (trainees) needs, but will also serve a unique platform offering trainees fresh knowledge and practical solutions to overcome business-related challenges" said Nadine Halabi, Business Development Manager at DBWC,
We will spare no efforts to support the programme, as it comes in line with our (DBWC) goals, including empowering women, introducing them to the latest global practices and developments, and educating them on the most important topics related to entrepreneurship, productivity and efficiency", added Halabi.
"Enhancing women's ability to manage themselves by their own is the first step towards creating a generation of females leaders who would be well-positioned to succeed and make changes. That is why we strive to ensure that women make the most of their personal resources to turn down contemporary challenges" she further said.
As part of our strategic plan, Halabi noted, the DBWC is working on strengthening its collaboration with various public and private bodies. it's doing so to develop services that meet the aspirations of businesswomen through organising training courses, workshops and providing quality projects in cooperation with competent bodies. Our ultimate objective is absolutely to help female entrepreneurs develop and sustain their businesses.
Assia Riccio, Founder of Evolvin' Women said: "Amity University will play a significant role in the growth, development, and success of our participants. We are honoured to partner with a team committed to advocating for the advancement of women, access to education and equality of opportunity. Further, the support of a strong network like the Dubai Business Women Council will provide additional resources and expertise".
Dr. Vajahat Hussain, Amity Education CEO, said: "As an education institute that has always focused on inclusivity and diversity, we are looking forward to working closely with Evolvin Women to create customised training programmes that will benefit participants and support their goals and dreams. We have a state-of-the-art hospitality lab and experienced faculty that will guide participants, equipping them with the knowledge and tools they need to succeed in a workplace. Through this 27-month initiative, our goal is to help participants grow into role models and leaders for their communities."
As well as advocating for the advancement of women in the hospitality industry, both organisations will collaborate on developing an Alumni Mentorship Program to engage young adults in understanding and contributing to social impact.