10% discount exclusively for DBWC Members for the Live virtual sessions
13-16 December 2020 | 10:30 am – 12:30 pm UAE
Organisations large and small recognise high performing teams as the driver for business success. Especially this year, emotional intelligence is critical for any leader. Equipped with a high level of self-awareness, powerful leaders realise how their attitudes, characteristics and behaviours impacts their team.
Emotionally intelligent leaders recognise the need for alignment and bring every member together through a shared vision. They consciously focus on their team's needs, smoothly remove stumbling blocks and get superior performance out of each team member. Being a skilful communicators in a multi-cultural environment, effective leaders strengthen the relationships with each, and moreover, amongst each team member.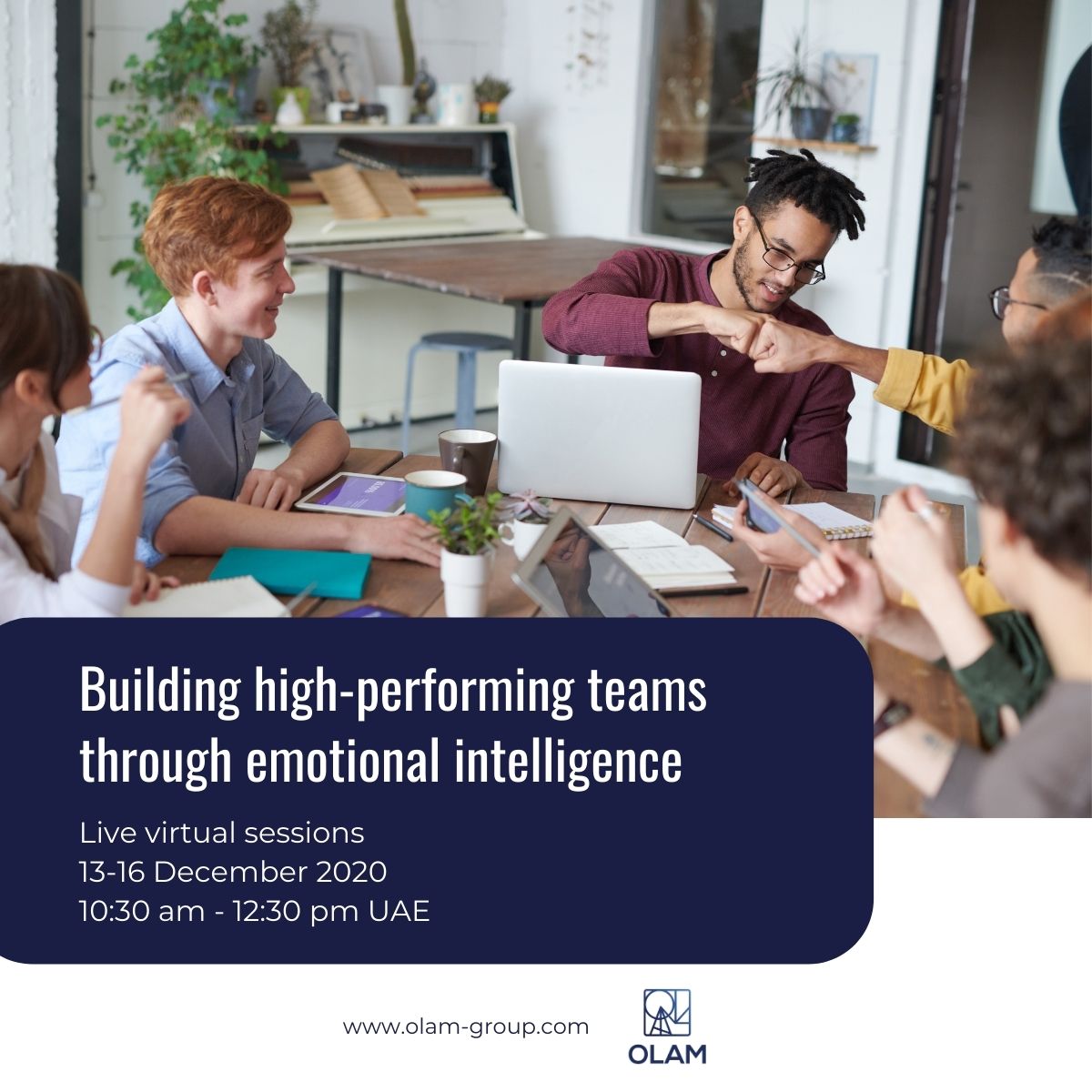 What you will learn?
At the end of this interactive programme, participants will be able to:
Understand the concepts and models of emotional intelligence at work
Discover how emotional intelligence supports organisational productivity and team performance
Recognise the traits and benefits of outstanding team performance and relationships
Become more self-aware and understand how you can self-manage your emotions
Learn how to motivate and inspire your team more effectively
Discover how emotional intelligent leaders create stronger team bonds and increase performance
Cultivate empathy, listening and respond appropriately to other people's emotional reactions
Establish strategies for clear communication and effective conflict management
Develop your team members' skills through skilful coaching
Who should attend?
This programme is designed for managers, leaders and professionals who want to enhance their emotional intelligence and strengthen their understanding of human behaviours.
Your facilitator
Agni Skafidas has spent over 20 years in general and specialised HR roles in the Middle East and around the world. Her wealth of knowledge in HR and coaching have driven her success and commercial understanding. Being recognised for her achievements, Agni had the opportunity to lead HR teams in operational and strategic roles and served as Smith & Nephew's Director, Total Rewards for APAC and Emerging Markets before joining OLAM as the Managing Director.
Agni holds a Master's Degree in Business Studies from Smurfit School of Business, University College Dublin, Ireland and is a member of CIPD, World at Work and an executive coach accredited by Association for Coaching.
Programme outline
| | |
| --- | --- |
| Module 1: Concepts of emotional intelligence | Module 2: The make-up of high-performing teams |
| Explore the prevalent models | Aligned vision and purpose |
| Business implications | Accountability |
| Benefits for the individual | Trusted partners |
| Module 3: The self-aware leader | Module 4: Motivating and inspiring |
| Own and other perspectives | What's your why? |
| Approaches to increase self-awareness | The four Cs |
| Continuous self-improvement through feedback | Create new opportunities |
| Module 5: Team relationships | Module 6: Empathy |
| Guiding principles | The three types of empathy |
| The learning culture | Empathy and performance |
| Celebrate success | Express gratitude |
| Module 7: Communication and conflict management | Module 8: Coaching your team |
| Clear communication in a multi-cultural environment | Set challenging and motivating objectives |
| Interactions in remote teams | Provide constructive feedback |
| Resolve conflict early | Identify and creating development opportunities |
Programme dates
Programme fees
13-16 December 2020
10:30 am – 12:30 pm GST

AED 1,497 + VAT

-10% discount exclusively for DBWC Members