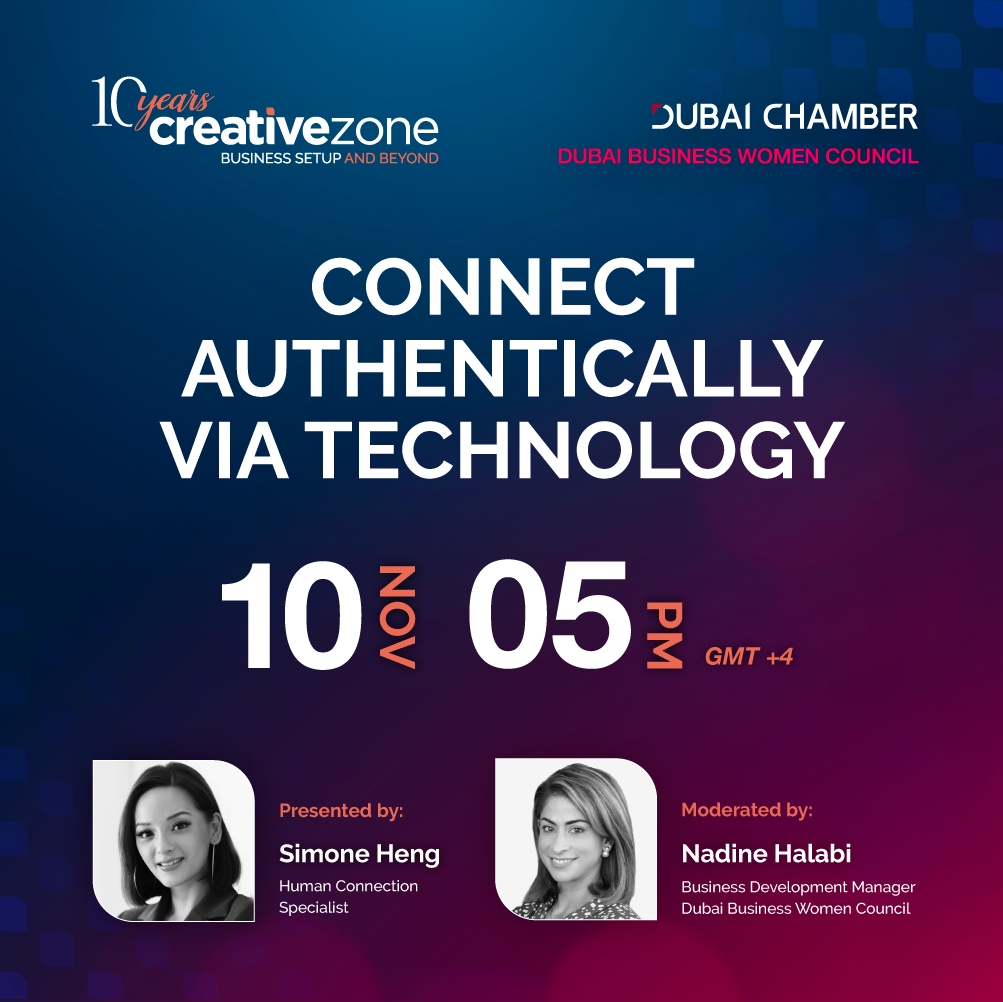 The 8th session of She Leads is an early Christmas present from us, as we bring to you one of the most special mentors of She Leads, Simone Heng, founder Simone Heng Speaking Pte Ltd. Simone's exuberant personality and vivacious speeches are often described as 'oratory movies'.
Join us for the action-packed session as Simone introduces us to the science behind making human connections as in the success-driven culture of business, quality time for cultivating authentic relationships has become more critical than ever. This certainly applies in the business world too as deeper connections create customer loyalty and longevity in business partnerships. We look forward to seeing all of you!
Topics of Discussion:
Learn the science behind human connection
Tools for connecting better
Resources which work to connect us more authentically
How to create a connection without meeting face-to-face
Bridging the gap between cultures without the use of language
Moderator
NADINE HALABI - Business Development Manager – Dubai Business Women Council
As Dubai Business Women Council's Business Development Manager, Nadine helps drive business success by adopting a 'start-up' style of management that fosters innovation, takes advantage of new opportunities and interprets industry trends to maximize strategic objectives. Encouraging entrepreneurship is an important part of the Council's work in inspiring women to be the best they can be. As such, she ensures that the Council is an environment in which women feel motivated to innovate, create and thrive.
Throughout her tenure at the Council, she managed to bring on board long lasting strategic partnerships with organizations and companies who share the same mission and vision, and who delivered tailor made content for exclusive workshops for the members of the Council with the main purpose of helping them develop their entrepreneurial skills. Through her demonstrated intrapreneurial approach to business, Nadine is considered in a strong position to continue charting the course of helping working women in Dubai develop their skills and abilities while maintaining mentorship and accelerator programmes to continuously support the members of the Dubai Business Women Council as well as the entrepreneurs in Dubai.
Speakers
SIMONE HENG - Founder Simone Heng Speaking Pte Ltd
Simone Heng is a Human Connection specialist, speaker and former broadcaster. She speaks to organisations on the connection techniques which will transform how you work, live and meet people in a world where disconnection is growing. In her, one and a half decade-long career in the media industry, Simone's job was to build memorable connections with audiences on stage, on-air, online and one-to-one.
She has been invited to speak at The United Nations, Ted X and Google and has spoken on stages in Thailand, UAE, Australia, Singapore, Malaysia, Canada and many more. Hopping countries from the age of 17, Simone was based for 5 years on air in the Middle East with Virgin Radio's award-winning Virgin Radio Dubai (2009-2014), on-air with Australia's competitive Southern Cross Austereo (2014-2015) and finally back to Singapore, the country of her birth, with Class 95FM (2015-2019).
Simone has studied speech writing in London under Tony Blair's former speechwriter Philip Collins. She has a communications degree from Curtin University of Technology in Western Australia with a major in Literary Studies and a minor in Performance studies. Simone also studied in Switzerland and has also worked in Australia, the UAE and Singapore. It is a result of these cross-continental adventures that she has become a true student of Human Connection.