Leading with empathy: How you can increase the effectiveness of your leadership style through empathy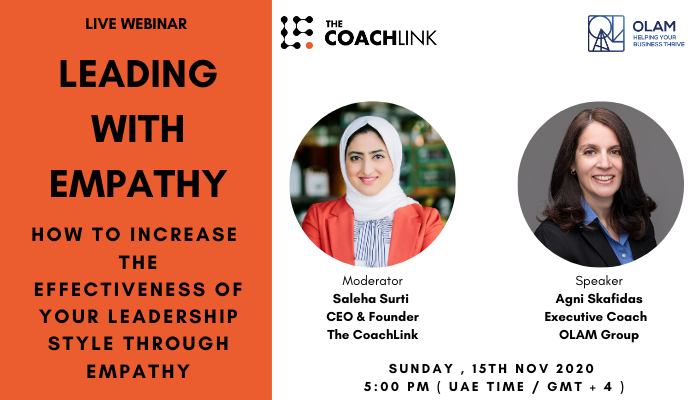 This year has given us more challenges than we ever expected. As leaders, we are continuously tested when guiding, motivating and engaging our teams. Emotional intelligence and empathy can be powerful tools for leaders.
Start by understanding your team, what they are thinking and feeling. When you know their motivation, you can focus your attention on supporting your employees in ways that matter to them.
During this webinar, you will
Explore how to build stronger relationships with your teams by applying empathy
Uncover the three types of empathy in leadership
Develop practical strategies to enhance your empathic leadership
Speaker:
Agni Skafidas has spent over 20 years in general and specialised HR roles in the Middle East and around the world. Her wealth of knowledge in HR and coaching have driven her success and commercial understanding. Being recognised for her achievements, Agni had the opportunity to lead HR teams in operational and strategic roles and served as Smith & Nephew's Director, Total Rewards for APAC and Emerging Markets before joining OLAM as the Managing Director. OLAM is a consultancy firm where she and her team are simplifying HR to fit their client's needs and culture.
Agni holds a Master's Degree in Business Studies from Smurfit School of Business, University College Dublin, Ireland and is a member of CIPD, World at Work and Association for Coaching.