She Leads Week 7 | Delivering a Differentiated Customer Experience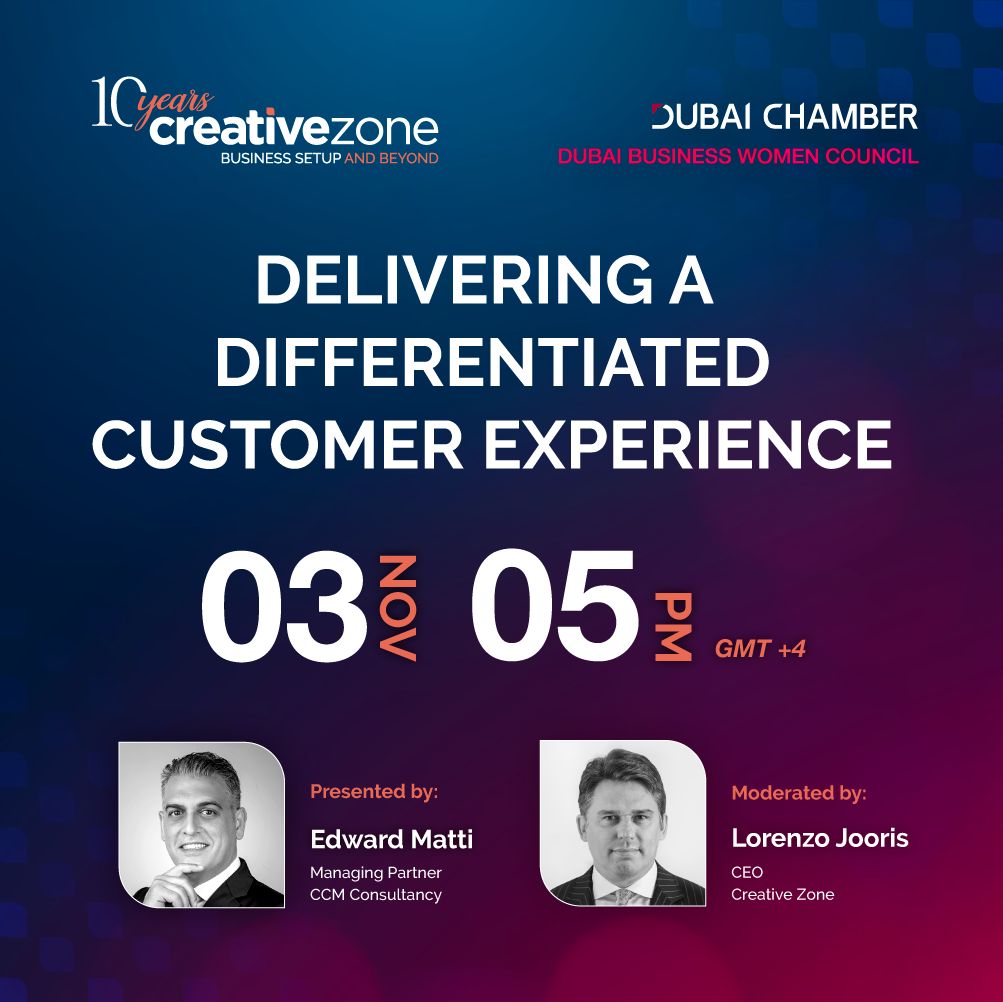 Customer Experience is still confused with Customer Service. Today, to stand out in the ever so crowded marketplace, one must find a way to deliver a differentiated customer experience. Consumers are in control and are no longer willing to accept basic or standard service. They want to be wowed; they want a memorable experience. During this fast-paced segment, Edward Matti (Managing Partner, CCM Consultancy) shares the 8 current trends in customer experience and what organizations can do today to deliver a differentiated and unique experience, every time.
Topics of Discussion
Understanding today's Customer
Karaoke Capitalism – getting it wrong
8 Trends in delivering a differentiated customer experience
What you can do to exceed expectations
Moderator
LORENZO JOORIS - CEO, Creative Zone
A seasoned entrepreneur, the man behind One World Communications and LEADERS Middle East that started the Young Global Leader Summit and the Power Women of Arabia Debate.
Speaker
EDWARD MATTI - Managing Partner, CCM Consultancy
Edward is an experienced leader with over 20 years of leadership experience in Human Resource Development, Sales and Financial Services, where he has proven his ability to manage, motivate and influence others through strong and effective communication skills and a commitment to realizing individual and team success. As Managing Partner for CCM Consultancy, Edward's responsibilities put him in front of clients from all industries and with wide-spanning challenges.
From effective talent management strategies to the design of complex progression models set to instill behavioral change, his team consults on end-to-end solutions for their clients. CCM Consultancy focuses on aiding clients in building branded customer experiences, culture shifts and capability building. Prior to moving to Dubai to set up CCM Consultancy, Edward lived in Toronto and was Regional Director for Canada's largest financial planning firm.
He spent 14 years working with his team of over 90 wealth managers, financial planners and support staff (having started off with 19 individuals) managed over US$540 Million in assets for clients and achieved an annual turnover of US$65 Million. This success led to his region ranking number one in Canada for Asset and New Business growth. He had received several awards for exceptional achievements as a Division and Regional Director