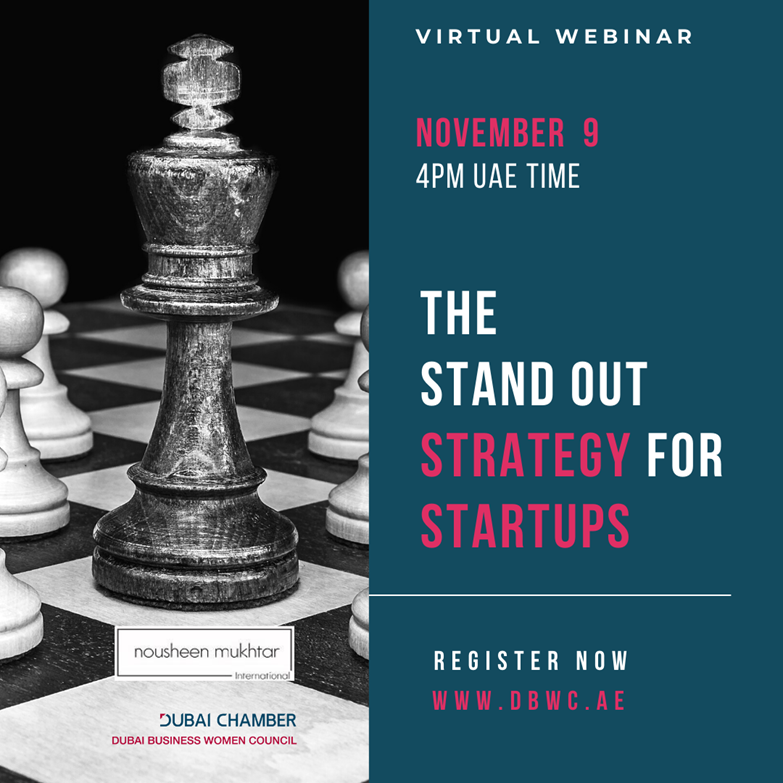 New economy requires new strategies for business growth. We are all craving connection in this digital world. When you find a deeper message and meaning behind what you are doing, it makes your Brand so much more powerful out there online….It goes from just a business with products that will be effective for their customers. Let us spot your special ingredient to help you stand out among other businesses.
Objectives:
Enable new startups to make their mark through a powerful PR strategy

Recognizing USPs

Sustaining a winning reputation

Managing relationships that support new brand
Speaker's Bio:
Nousheen Mukhtar
Chief Executive Officer - Nousheen Mukhtar International
Nousheen Mukhtar is a serial entrepreneur with a passion for growth and innovation. She is the Founder of Nousheen Mukhtar International LLC and Yes Gulf Referral Marketing Community, catering to personal branding, corporate branding, advertising, public relations, and digital marketing as part of their clients' business journey. As a motivational speaker she has delivered inspiring talks at various platforms across the UAE. She has supported more than 150 startups in past 8 years by offering support and practical business advice.
She has been speaking in YesGulf community training and development sessions guiding industry professionals and business owners. She has also been delivering speeches and workshops in different corporate groups for skill development. She has been featured in Stylfemina, Insight Middle East and Asia, and Women2Elevate Magazine and Club. She is a Branding Consultant and a Social Entrepreneur who helps companies and individuals connect, share ideas, innovate and ensure powerful strategy implementation in Business development and marketing.
She has managed several workshops for content managers, business marketers and writers during her career where she has enabled professionals in devising innovative strategies related to industries such as Tourism, Art, Fashion and photography, Education, Coaching, Blogging and Branding. She has also been lecturing in Nest Academy of Management Education (NAME), Academic City, about Events and Brand Management. She has been a guest speaker on many different stages in Dubai and in multiple Webinars. She primarily speaks about personal branding, marketing strategies and entrepreneur empowerment. She is a passionate writer who has been writing Poetry, Articles, Novellas and Literary Reviews. Her works have been published in various E-zines, Women's magazines, Poetry Journals and Newspapers.