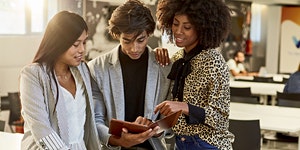 MULTICULTURALISM: WHY SHOULD WE CARE ABOUT RACE?
Uncertainty, fear and emotional stress related to coronavirus have recently combined with potentially explosive racial and cultural tensions to become something that we cannot put neatly into a box to 'deal with' later.
Leaders need to face up to the sensitive and deep-rooted emotive issues that have surfaced and that can no longer be swept under the carpet.
Being brave is risky. So too is standing up for what's right. The actions leaders take now will mark them and their organizations. The path to being genuinely and consciously committed to equity, inclusion and embracing difference calls for a re-imagined form of leadership.
We will be discussing the skills and capacities needed for leading and working effectively in a multicultural business and society.
Understanding their own cultural orientation, and how it impacts their workplace interactions
Understanding the impact of cultural programming on perception, attitudes and biases
Cultural sensitivity: Appreciating how to recognize, adapt and honor different styles of communication
Tips and skills on how we build rapport instantly with new colleagues, friends, and community
Working towards enhancing intercultural interactions and infusing conscious inclusivity in their team and organization
Introduction to a model to explore difficult conversations : RACE