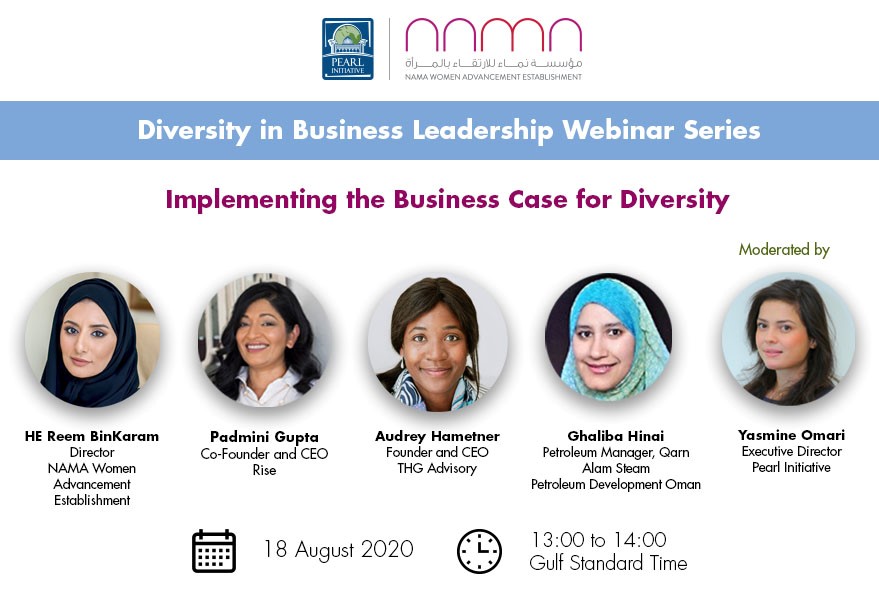 There has been a concerted effort to promote the business case for increased gender diversity in the workplace, and companies across the globe have been vocal about being committed to it.
However, there is still much to be done to promote and entrench, as demonstrated by global data as well as the Pearl Initiative and NAMA Women Advancement Establishment's research on diversity across the Private Sector.
There are a number of solutions which can be implemented to improve a company's diversity and inclusion, but they all require the buy-in of organisational leadership. How can business leaders get management and shareholders to understand the business case for diversity, and begin to actively implement policies that enable it?
This webinar will aim to:
- Discuss the findings of the Pearl Initiative and NAMA's original research on the nature and extent of women's experiences in the Gulf's Private Sector,
- Examine the best ways to bring a company's leadership on board with promoting diversity at work,
- How senior management can take responsibility for D&I implementation and outcomes, and - How other companies can use customised approaches to convincing internal stakeholders to actively value diversity.