How Architecture & Design impact our Health, Well-being & Happiness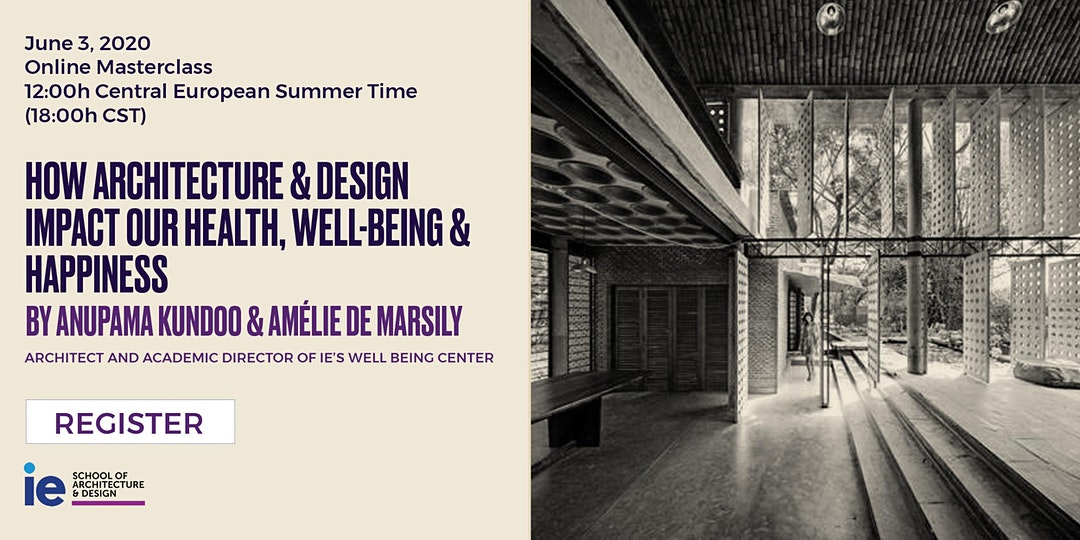 About this Event
Join us for a session where we will explore how the three main pillars of happiness are heavily impacted by the design of our homes, offices, buildings, and cities. Using the Covid-19 pandemic as a backdrop to a new relationship with the spaces we occupy, we will investigate how Architecture can use physical, non-physical, and even more subtle human resources to produce environments that fulfill all our needs including harmony, beauty, and cultural expression.
About the Speakers:
About Anupama Kundoo
Anupama Kundoo's practice started in 1990 and involves extensive material research and experimentation to achieve an architecture of low environmental impact that is socio-economically beneficial.
Anupama is currently a Professor at the Potsdam School of Architecture and Visiting Professor at Yale University. She graduated in 1989 from Sir JJ College of Architecture, University of Mumbai, and received her Ph.D. degree from the TU Berlin in 2008.
Her work was exhibited twice at the Venice Architecture Biennale in 2012 and 2016 and will be exhibited as a solo show at the Louisiana Museum of Modern Art, Denmark in 2020.
She is the author of 'Roger Anger: Research on Beauty/Recherche sur la Beauté, Architecture 1958-2008' published in Berlin by Jovis Verlag in 2009.
About Amélie de Marsily
Amélie de Marsily is currently the Academic Director for the IE Center for Health, Well-Being & Happiness.
She started her career as an outside counsel at Clifford Chance in Paris and Madrid. Then she moved in-house and spent 17 years at Cisco Systems, starting as an in-house counsel supporting mainly sales operations, moving up to General Counsel of Europe, Middle East, Africa, and Russia in 2011. In 2013 she moved to lead a 330m$ Professional Services business for Cisco Systems, leading a large team of network architects and engineers and managing the P&L. In 2018, she left Cisco to go on a sabbatical, and recently joined IE in 2019, starting her 4th career.
Apart from law, Amélie studied Positive Leadership and Strategy at IE in 2015 and has recently trained as a mindfulness teacher for an intervention called Mindfulness-Based Strategic Attention. She is interested in people, leadership, and management.
Get your access HERE