---
Advance Your Career with a Digital Growth Mindset
June 1, 2020 at 5PM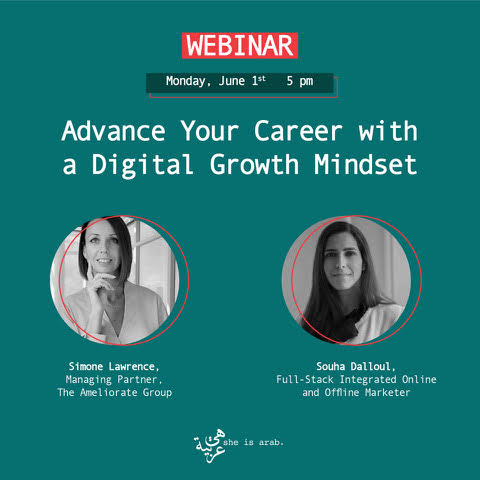 Today's unprecedented times have created a state of confusion for many on navigating the current and future realities of work, jobs and skill-sets.
To shed light on these transformational times, we have put together this webinar entitled: Advance Your Career with a Digital Growth Mindset to support our community across specialties and sectors with a toolkit to navigate these new waters.
We are joined by Souha Dalloul, Full-Stack Integrated Online and Offline Marketer and Simone Lawrence, Managing Partner of The Ameliorate Group who will discuss need for us to acquire a growth mindset and work on developing our hard and soft skillset in the gig economy.
Through a conversational format, they will address the following themes:
1. Where We Are Today: The reality of work in the gig economy.
2. The opportunity: The growth mindset advantage
3. Pro-Active Career Management: Staying relevant and re-inventing your personal brand (up-skilling and re-skilling) tool-kit.
Click here to reserve your spot for this webinar: https://bit.ly/3ejmmXE