Achievements : Arundhati Seigell Awarded as one of the Femina "Women Super Achievers 2018"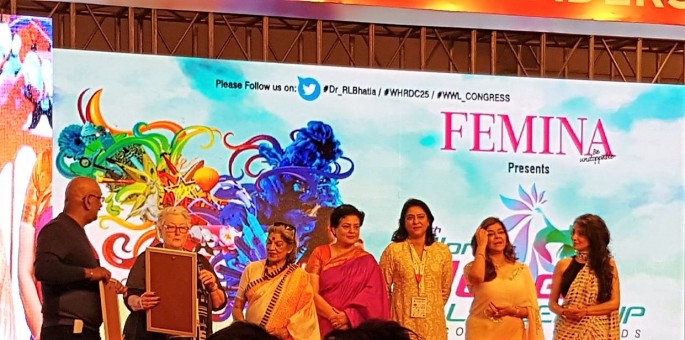 DBWC Member: Arundhati Seigell Head Corporate Communications at S&T Group awarded as one of the Femina "Women Super Achievers 2018" at the 5th World Women Leadership Congress & Awards in Mumbai, India in recognition to her contributions in the field of communications, marketing and brand building.
With a go-getter attitude and an insatiable appetite for doing something new, Arundhati Seigell has carved a niche for herself in the industry. Arundhati believes life is an unending journey of learning.
Arundhati is an accomplished communications professional, best known for driving change by connecting business strategies to building trust and protecting reputation. Her forte lies in setting up and establishing the corporate communications function, which she has now done, successfully for over 10 years. She currently spearheads corporate communication and brand management for the Oman based S&T Group. Her expertise of 18+ years spans across various organisations including the United Nations, British Council, IT, Corporate and Manufacturing sector, both in India and internationally. Arundhati is currently based in Dubai, U.A.E.
Arundhati has wide experience of providing counsel for senior business leaders, creating effective campaigns and working with regional teams across the UK, India, UAE, Oman, Qatar, Singapore and Sri Lanka. She has steered several successful strategies which have had strong and positive impact on organisations and won them several awards. She has played a pivotal role in creating and revitalising brands and led numerous game-changing initiatives. An early adopter of digital communications, Arundhati has been instrumental in developing creative solutions and advocating consumer-driven social media strategies.
Arundhati's tenacity, drive, and enthusiasm is infectious. She strongly advocates mentoring and hopes to encourage more women to foray into leadership roles.
As a member of the Dubai Business Women Council, Arundhati Seigell is proud that this award is a testament of the value women leaders bring in influencing change and empowerment.