Success Story : UOWD graduate Sarra Lajnef triumphs at UAE Rowing Championships
UOWD graduate Sarra Lajnef triumphs at UAE Rowing Championships
Former Olympic swimmer and current rowing sensation, Sarra Lajnef, was recently crowned as national rowing champion during the UAE Rowing Championship.
Organised by the UAE Sailing and Rowing Federation, nearly 60 rowers from six clubs across the emirates competed in different classes and categories.
Sarra, who at the time of the tournament, was still recovering from surgery after injuring her clavicle in an accident, beat the odds and won a total of nine medals during the fifth and the final round of the event. She was named the overall UAE National Champion 2018 in all 5 events - the women's single, double, and quad; the double mix and quad mix.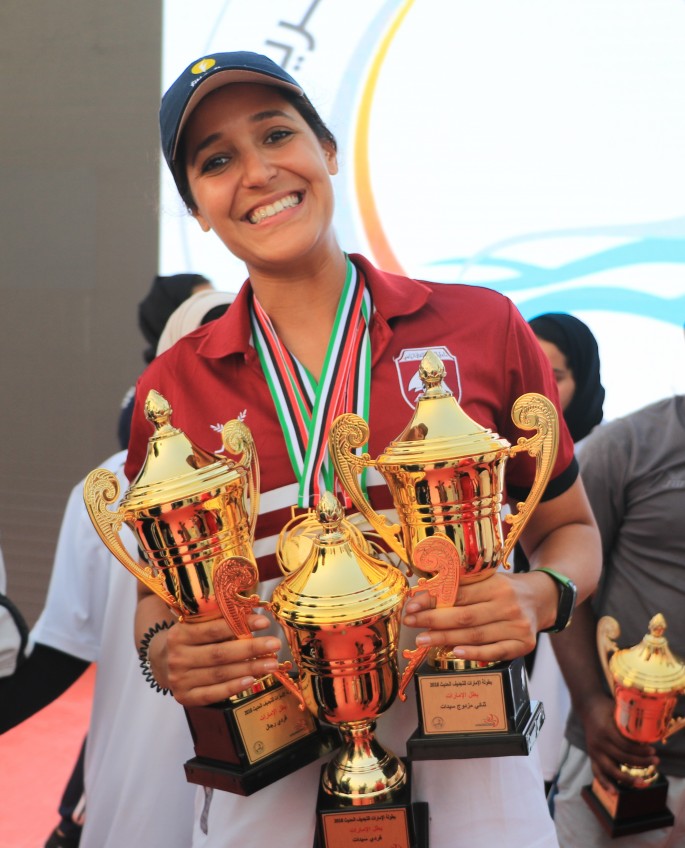 In the fifth round held in Abu Dhabi, she won gold medals in the women's double, women's quad and quad mix. She fell short in the women single and double mix to win silver, missing gold with only a few seconds.
During the final round held in Sharjah Corniche, extreme heat and an incomplete team, forced the team to pull their strengths together in the women's quad challenge in order to won the gold medal.
Due to heat exhaustion, Sarra had to pull out of the quad mix event but returned in the afternoon, winning silver for the women single event and gold for the women's double and double mix.
"This was one of the most challenging tournaments I had to face in my rowing career. I couldn't train for more than a month due to my surgery and during the final round I had to receive medical assistance due to heat exhaustion however, I was determined to finish the competition", Sarra commented.
"It is in challenging times when you realise your true inner strength and I also appreciate my team members for their efforts in obtaining the first place", she added.
The tournament is a great platform to identify the UAE's best rowers who could represent the country at the 2020 Olympic Games in Tokyo.
Sarra started her rowing career early 2017 and has since excelled in this sport. She graduated from the Master of International Business at the University of Wollongong in Dubai and is currently the UAE's Country Manager for FitterFly, a tech enabled child nutrition and fitness ecosystem.