Dubai Business Women Council holds workshop on blockchain technology and cryptocurrencies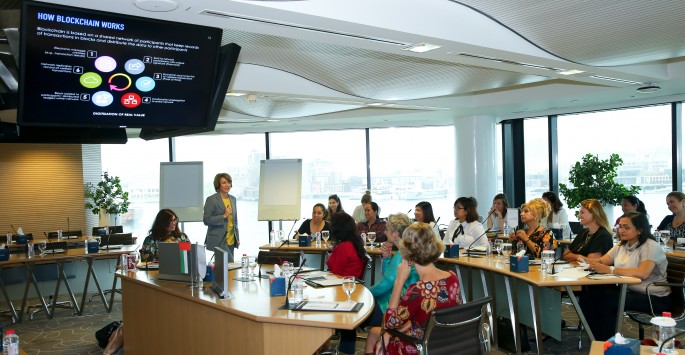 Dubai Business Women Council holds workshop on blockchain technology and cryptocurrencies
DUBAI, 23rd of April, 2018 -- The Dubai Business Women Council, in cooperation with the American University in Dubai, has organised a workshop at the Dubai Chamber of Commerce and Industry on blockchain technology and cryptocurrencies.
The workshop is part of the council's efforts to enhance the knowledge of its members on the latest topics and issues related to business and entrepreneurship.
The workshop, which was moderated by Dr. Tatiana Zalan, Associate Professor of Management at the American University in Dubai, was attended by 21 participants that represented various economic sectors. The participants reviewed the concept of blockchain technology and the ways of using it to develop and improve their businesses. They were also introduced to cryptocurrencies, which contributed to increasing their awareness on the latest developments in the business sector.
The session is part of the council's commitment to meeting the objectives of the government plans for the business community, such as the Emirates Blockchain Strategy 2021, which was launched by His Highness Sheikh Mohammed bin Rashid Al Maktoum, the Vice President, Prime Minister and Ruler of Dubai. The strategy aims to offer a digital infrastructure that speeds up and facilitates business procedures and elevates the UAE's position as a global economic leader.
The educational workshop was organised with the aim of educating participants on blockchain technology and its advantages to the business sector as well as introducing the concept of cryptocurrencies such as Bitcoin and Ethereum. The participants then reviewed the economic effects and challenges of adopting blockchain technology and using cryptocurrencies.
Nadine Halabi, Business Development Manager at the Dubai Business Women Council, stated that the council picks topics that feature the latest developments in the business community.
She stressed that it is important for the topics to align with the developmental goals of the UAE, which enhance the skill and competitiveness of the members in the country, and their ability to face challenges and experience growth in their professional lives.