Leadership and Sustainability Workshop for DBWC Members by DOW Chemical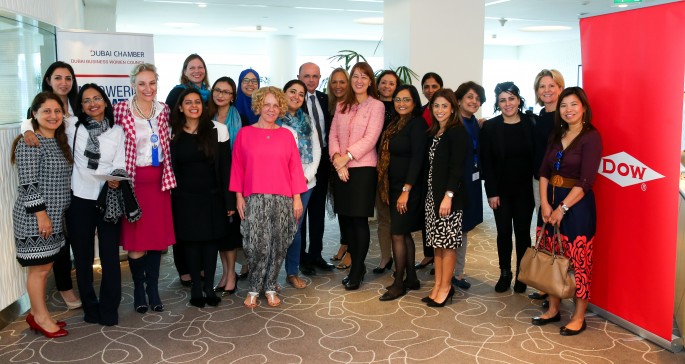 February 21,2018
The DBWC members had the chance to hear from the Top senior executives from DOW Chemicals on different topics related to Leadership and Sustainability on February 21st, 2018
Angela B. Nemeth talked about Work Related Stress, Management & Resilience who is the head of business communications for IMEAT and is responsible for strategic communications activities in support of Dow's ambitious regional growth strategy. Angela holds a Bachelors Degree of Science from the University of Georgia USA with a double major in Economics and Journalism.
Laura L. Wolak discussed how to align your career path and your passion. Laura is the EMEAI Segment Market Manager for Energy & Head Transfer management. She is responsible for business growth in concentrated solar power, energy recovery and various chemical manufacturing. Laura holds a BBA from Western Michigan University in Marketing & Asian Studies and has lived in Japan, Italy and Australia.
Zakia Bahjou also discussed sustainability & customer experience. Zakia is the Regional Commercial Manager of Dow Water and Process Solutions and leads Dow's regional sales team in charge of building organizational capabilities for the region. She holds a Bachelor's degree in finance from the École Supérieure de Commerce, and a Master's Degree in Marketing from the Pierre Mendès-France University.
Fadi Matar provided the members with more details about Leadership Brand. Prior to joining Dow as the Public & Government Affairs Director, Fadi was the Corporate Communications Director for Dow's joint venture in Kuwait 'EQUATE'. He headed the corporate communications group with functions including brand management/development, public relations/advertising and digital marketing.