DBWC & ICON Workshop Series: February Future Codes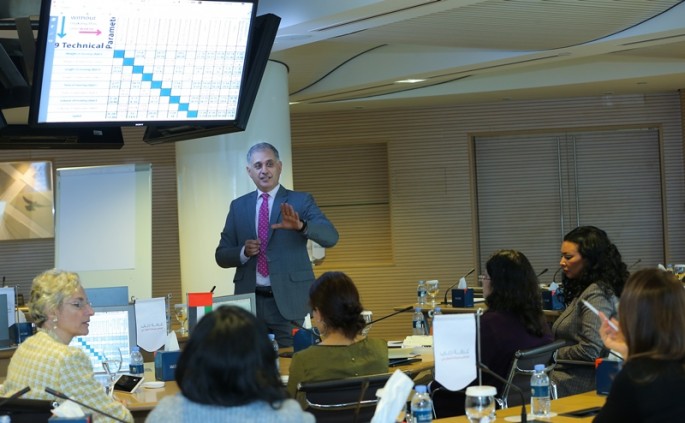 The DBWC hosted the 2nd DBWC and ICON future code series in February. Through all these series of workshops our members will gain the knowledge and skills of how to be the CEO of your own life, a true master in scripting and designing their future, and polishing their leadership skills to inspire and transform others and lead them from a place of true vision and integrity.
Below a list of February workshop objectives that were conducted by Dr. Osama Al-Ali, Partner, Head of Strategy and Leadership Practice ICON Training and Coaching.
· "The Art of War" – February 26, 2017
In this program our members learned how to apply Sun Tzu's principles of warfare to our modern personal and professional goals and were introduced to tremendously insightful principles applicable to every possible sphere of life equipping them to perform to their highest potential.
· "Future Thinking" –February 23, 2017
This program is about being one step ahead of the game. It is the driving factor for successful people and companies to grow and thrive. Our members learned how to understand the market place and conquer the competition.
· "Innovation" – February 26, 2017
To achieve success and desired results, we need to continuously develop and improve our products. This program focused on problem solving, analysis and forecasting. Presenting TRIZ theory (Theory of Inventive Problem Solving), our members learned how to understand and define challenging problems, and which tools and strategies to use to find innovative solutions.
Dr. Osama Al-Ali was in at the beginning of the IT revolution before it was even known by that name. His early working life in the 1980's was spent as a Business Systems Analyst and Head of Technology before embracing academia as Assistant Professor of Applied Sciences at Arabian Gulf University in his native Bahrain. In the mid 90's he took his expertise – in computer applications and information systems – into the world of banking as Vice President and Gulf Business Technology Head of Citibank. His programs on Financial and Business Modelling have been found immensely fruitful by organizations like the Knowledge sector of TECOM, Bahrain Airport Company and several others.
The Last DBWC and ICON series will take place in March and will be discussing the leadership codes: Leading yourself, others and your business by Salma Sakhnini Founder & Managing Director.
More details and registration are found at DBWC website http://www.dbwc.ae/event/detail_page/484