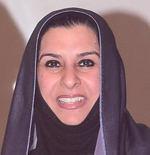 FARIDA KAMBER AL AWADHI
Board Member
A visionary, creative designer, successful businesswoman and dignitary in local society.
Mrs. Farida Abdulla Kamber Al Awadhi is the owner and Managing Director of Cinmar Design, an architectural and interior design firm established in 1989. http://www.cinmardesign.ae. The design firm has a team of professional designers and staffs. She received her Bachelor of Arts degree in 1985 at George Washington University, USA.
Under her leadership she gained fame for many outstanding design projects, and won the Gulf Woman Executive of the Year Award in 1996. The first award given to Women in the Gulf.
Community Contributions
Mrs. Farida Kamber is also the President and one of the founding members of APID (Association of Professional Interior Designers) a nonprofit organization, which has been formed in November 2005 to represent the interior design industry in the region. www.apid.ae.
As a member in IFI (International Federation of Interior Architects/Designers) Mrs. Farida contributed towards Dubai Hosting back in 2009 IFI General Assembly Congress. Also in Fall 2011, Mrs. Farida established and organized under APID management FOiD (Festival of Interior Design) under the patronage of His Highness Sheikh Majid bin Mohammed bin Rashid Al Maktoum. This was the first festival in the region that is celebrating the design and the Interior Design profession.
As an IFI member, she participated in May 2014 in IFI General Assembly which took place in Kuala Lumpur- Malaysia.
Also Mrs. Farida was appointed in July 2014 as member of the Dubai Design and Fashion Council. Established by official Decree, the Council is clearly driven by a desire to nurture local talent and entrepreneurship and determined to support creative initiatives, create scholarships, mentorships and collaborations, according to Dubai Design District, better known for d3. In 2009, Mrs. Farida Abdullah Kamber Al Awadhi also formed a company called ASRAR PR&Event where she is the Executive Director. ASRAR organized a number of events where prominent local designers showcased fascinating creation of the Emirates ABAYA. Mrs. Farida is dedicated to follow the steps of her late father, who was a creative visionary and a prominent businessman in his years supported his community by building the first hospital in Dubai in 1950's and pledged to educate his children.
She always considered her duty, as a woman, to encourage young national female talents to educate themselves as well as integrate into the business environment. She contributed and supported her community and society by proving through her examples and actions, that a woman can perform both at home and also be a successful businesswoman. She has been a Board Member of Dubai Business Women Council since 2002, member of Dubai Chamber of Commerce, Arab International Women's Forum AIWF (London), Vice President of Emirates Business Women Council, International Business Women Group (IBWG), Executive Advisory Board Member of College of Business Economics of UAE University – Al Ain and ECIE (Emirates Center for Innovation & Entrepreneurship – UAE University Al Ain, Advisory board member of Interior Design Faculty at AUD, Advisory board member of the Architect Faculty at AUD.
As a daughter of U.A.E., Mrs. Farida not only provides stunning and unique interior design schemes, but also opportunities for upcoming designers by offering her expertise and skills to support students and young talents.